As the sun sets on another fantastic run of activity and amusement under the big blue skies of Southwest Montana, we enter a time of year that calls for crockpots, fall flannel, football Sunday and anticipation of the coming holidays.
Events are moving indoors and our local businesses are swapping out their shelves with an inventory appropriate for the changing season. The adjustment isn't easy for everyone, but the expected shift shouldn't come as a surprise for locals.
The shortened days and crisp evenings offer a reprieve from the constant hustle and bustle of the summer months, giving us an opportunity to kick back and spend more time at home with family and friends.
Autumn is also a time for reassessment of priorities and reflection of all the things we value on our paths to success in the Gallatin Valley. The Best of Bozeman is an annual celebration of our community, highlighting the area's favored gatherings, eats & treats, small business ventures and opportunities to experience the natural attributes that enhance our residency.
Voted by YOU, here's a comprehensive summary of Bozeman's premier offerings in commerce and leisure.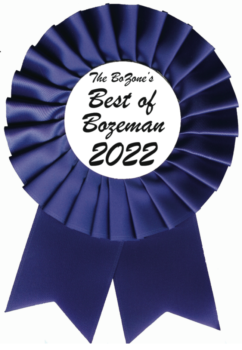 The Montana brewery scene has exploded over the past decade, with new hops-focused enterprises popping up all over the valley. Local celebrations like the Tap into Montana Brew Fest and Fresh Hops Fest bring many of our favorite brewers together, and you can find their flavors on tap at eateries and taprooms pretty much everywhere you go.
A local favorite hotspot for Montana suds and specialty pizzas has a lot to celebrate in 2022. Not only did Bridger Brewing take home numerous awards in this year's survey, but they also opened up a second location along the scenic Headwaters near Three Forks. The new venue features an outdoor amphitheater for live music, brand new food menu and distribution facility to accommodate its many flavors. As awards go, Bridger walks away with Best Bar Food, Best Beer Selection, Best Happy Hour, Best Pizza, Best Place for a First Date and Best Take-Out.
The competition is fierce among Southwest Montana brewers and their loyal patrons. Despite the plentiful choices in the greater Bozeman area, MAP Brewing was able to reclaim the top honor with Best Brewery. Their casual atmosphere, welcoming pour team and outdoor seating are just a few of the reasons we flock to its biergarten-style space. Their Bridger-facing patio helped secure Best Outdoor Patio, while fans of the Midas Crush IPA can confirm it's the Best Local Beer Flavor. MAP also won in the categories for Best Local Beer Crafter and Best Tasting Room.
If craft beer isn't really your jam, find good old fashioned spirits in taverns, lounges and tasting rooms throughout the area. Craft drinks using vodka, whiskey, gin and tequila produced in-house at Bozeman Spirits Distillery helped the popular cocktailer collect Best Distillery after missing out last year. Order up a sipper with their Bobcat Gold whiskey in support of your Montana State 'Cats, or savor a mule with Cold Spring Huckleberry Vodka for a taste of the Treasure State.
An economical alternative to going out for a stiff drink is to stock the bar at home and do it yourself! Montana Spirits & Wine has an expansive inventory of liquors of every complexion, as well as varietals red and white. Their knowledgeable staff helped bring another pair of certificates for Best Package Liquor Store and Best Wine Shop. Whether you're planning a dinner party among friends or an intimate evening for two, they've got something on their shelves for the occasion. Gather up those special ingredients the bars don't always have on hand and treat yourself to a night of specialty cocktails at home.
Of course, sometimes you just have to get out of the house for a night to blow off steam and leave it to the service professionals. Plonk was voted Best Bar in '22 for their unique adult confections and modern take on the evening lounge. The constantly evolving food menu complements their Best Cocktails and is also the pick for Best Place for Girls' Night Out.
Just down the street, the legendary Rockin' R Bar commands the weekend scene as the go-to for MSU students and night owls, but is also a great place for happy hour bites and then some. The R wins Best Nightlife, Best Place to Dance and Best Place to Meet Singles.
New to Bozeman, Happy Box has quickly become the destination for those looking to belt out a tune. Patrons can reserve a private room for group parties or enjoy their menu of pan-Asian cuisine. Head downtown and check out why they've been crowned Best Karaoke this year.
Bobcat enthusiasts look no further than Spectator's Bar & Grill whenever there's a matchup. It's where the masses pre-game the tailgate when the 'Cats are in town, and the watch party headquarters when they're away. Your Best Sports Pub, the grub is ample, the drinks are sturdy and the place is draped in blue and gold.
The morning after a winning game or night of revelry can be painful if you, like us, neglect to adhere to the limitations of the human body. Get on the list at the Western Café for what voters selected as the Best Hangover Food Cure. The downtown mainstay is a quaint neighborhood diner with hot plates and strong coffee. "The Last Best Café" isn't only a place for the debaucherous – Bozeman voters got together and decided it's the choice for Best Breakfast, too! The cinnamon roll french toast is popular among the regulars, but an order of bacon and eggs can always do the trick.
Grab a morning boost on the go from Ghost Town Coffee Roasters. They roast their own beans from their northside Bozeman flagship location, but also pour a fresh perk at their Downtown café on East Olive. Find the perfect blend at either and help soak up the caffeine with a delicious pastry. Voted Best Coffee and Best Coffeehouse this year, they also serve delicious lunch options.
In a rush? Cruise thru Nexus Drive-Up Coffee in Midtown Bozeman. The java connoisseurs use locally roasted beans to give you everything from cold brew and lattes, to breves and chai teas. Your Best Coffee HUT for a second year running serves bike and walk-ups as well… something to remember for next summer!
Coffee isn't the only avenue to kick off your morning. Best Teahouse Steep Mountain offers a wide variety of loose leaf teas, coffee alternatives and kombucha. The Downtown operation features comfortable seating and also sells their products online. Head down to catch up on reading and emails, or for their regular Open Mic nights.
Do you instead enjoy fresh-pressed juices and green drinks? Though they've been in operation for a few years, the Farmer's Daughters Café & Eatery finally took the gold for Best Juice Bar. The drink menu features celery juice and glowing green smoothies, as well as healthy grab-n-go meals to go along with.
It's your turn to bring the goods for the next office meeting or late morning gathering. Find a selection of pastries and other baked goods at Wild Crumb, the repeat winner of Best Bakery. Arrive with a box of something sweet to score major points with colleagues and friends, or pick up some loaves for the bread bin at home.
Another option for bulk treats may be found at Granny's Gourmet Donuts. Whether you prefer cake rings, glazed, or both, there shan't be a sign of sugary remnants to be found at the bottom of the box. Granny's once again wins Best Donuts / Pastries.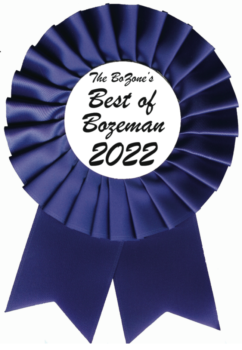 Midday eating options are in abundance around our sprawling micropolitan, but our voters had a few choices to make with this year's survey. Fink's Delicatessen was elected Bozeman's Best Lunch and also the victor for Best Sandwich. The cooler fall temps will do wonders for their hot sammy menu, with homemade chowders to complete the meal. Also consider Fink's charcuterie board for your next assembly of friends and family.
Coming as a surprise to very few, Backcountry Burger Bar is the place to go for savory Montana-raised patties with varied topping combinations. The pick for Best Burger offers a full selection of local brews and appetizers like curry fries and crispy cheese curds. Conveniently located downtown, make sure to stop by the next time you've got a craving.
You needn't head south for homestyle cooking with Roost Fried Chicken in our neighborhood. Find crispy clucks, hearty side dishes and signature dipping sauces at the Best Inexpensive Restaurant in town. Don't worry, your feast comes with a stack of napkins!
Mobile dining options have added some texture to our local food scene, with one in particular wowing the tastebuds of Gallatin Valley foodies. El Rodeo serves residents with traditional menu items like tacos and quesadillas, specialty burritos, as well as tortas and mulitas with plenty more to choose from. Stop by their Best Food Truck next to Jiffy Lube on Main or their Gallatin Valley Mall location to taste for yourself Bozeman's Best Mexican Food.
Another cuisine tantalizing our town's eclectic palates comes in the form of nigiri, sashimi and other specialty rolls at Dave's Sushi. The restaurant has been a destination for eats imported from east Asia for decades, having grown from its humble beginnings into a spacious sushi house great for group celebrations complete with sake or solo quick lunches. Dave's was renamed Best Sushi, Best Asian Food and Best Place to Eat Seafood in this year's survey.
I-Ho Pomeroy has made a name for herself with longtime residents, most notably for her family recipes served hot at her namesake I-Ho's Korean Grill. Dive into some Korean bbq, ramen bowls or her famous Gal-Bi-Bob for a seasoned taste of the Best Korean Food in Bozeman on West Main. Also find her kimchi on the shelves of the Co-op, Joe's Parkway and Town & Country stores.
Spend a night with Pakeezah to enjoy Bozeman's Best Indian Food. Their modern fare enhances traditional dishes using exotic spices and other ingredients in this fine dining setting downtown. Check out their menu of authentic curries, oven-baked entrées and more when making reservations online.
Bar 3 Bar-B-Q, the local "home of world class racks," took the prize for Best BBQ for another year. The Belgrade grillmasters offer a menu of ribs, brats, brisket and chicken for those seeking cookout eats without the prep and cleanup. Have a cold glass of beer from Bar 3 Brewing while you eat in-house, or slug one down while you're waiting for a feast to-go.
While we're on the topic of juicy meats, Sir Scott's Oasis has once again been named Best Steak. The Manhattan-based restaurant is under new proprietorship since this year's voting and we're eager to see what becomes of our favorite steakhouse in the time ahead. Thanks to Scott and Marie for the delicious cuts over the last 42 years!
Many of us are envious of the land of Italia – wine at noon and carbs all day in a cozy setting. Blacksmith Italian offers its own spin on the fantasy from its corner of town featuring handmade pasta, generously portioned entrées with our without Montana meat additions, and an extensive wine list. Reservations encouraged for this popular venue serving the Best Italian in Bozeman. Blacksmith also won B